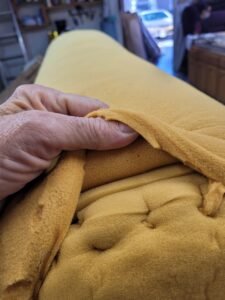 Why buy new furniture when you can repair your furniture for a fraction of the cost of buying new furniture.
If you have broken chairs, couches, tables, dressers, or any antique furniture that needs to be repaired or fully restored, we can do it all.
Our skilled technicians can perform basic repairs in your own home, to accommodate your time constraints and needs, particularly when you're moving or handling heavy office furniture.
Our team will take care of furniture repairs, ranging from chairs, tables, beds, shelves, and cabinets with high quality.
Service We Offered
Upholstery
Mechanism Replacement
Frame Repairs
Foam Installation
Wood Repairs and Much More
We fix springs and webbing in couches, chairs, and ottomans as well as structural wood in modern and antique furniture. We can fix scratches and nicks on your fine wood pieces.
If your sofa or chair has loose arms, sagging springs, or webbing, we can fix them. We also do pillow backs and fiber filling for cushions to complete your furniture restoration project.
We provide a full menu of wood repair products including, but not limited to, touch up markers and pens, wood touch up, leather repair and touch up kits to homeowners. Not to mention our Touch-Up Kits are also user-friendly.
Our technicians have good product knowledge and can repair most of the furniture on the market today and yesterday. We guarantee your satisfaction. Contact us for more information at 408/ 915-7560
Some Of Our Suppliers